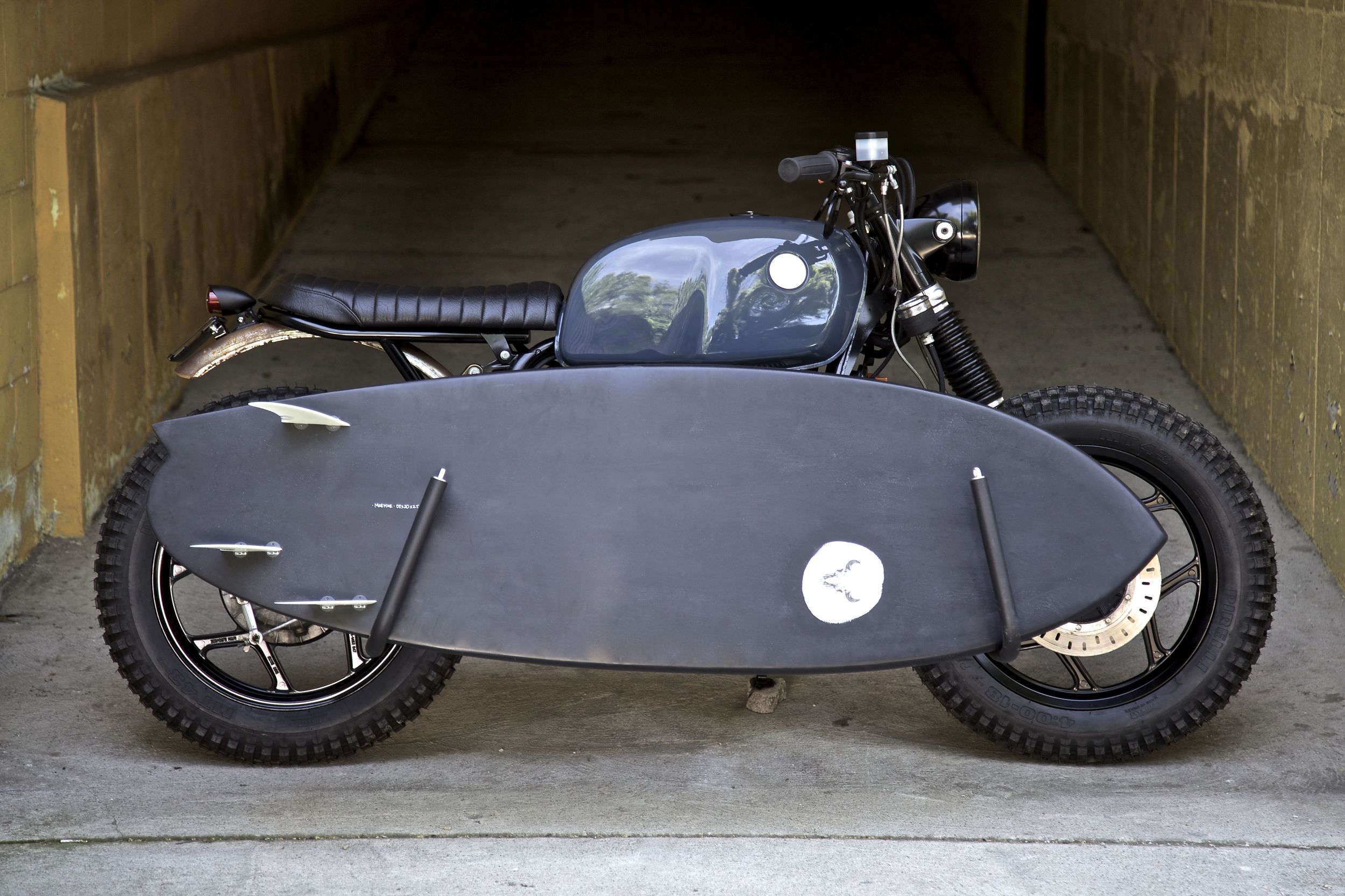 Our first BMW build, B-1, is based on a monolever 1986 R80RT and got to us in pretty rough conditions, with many years of dirt and negligence on her.
In the design process we wanted to maintain a mix of old and new, and decided to retain the distressed and rugged look of the engine to make a contrast with the new parts and paint. With low miles on the clock for a boxer engine and a strong compression, we decided to refresh the engine where needed but leave the aged and weathered motor on the outside the way it was.
We stripped down the bike and eliminated all the usual excess parts and weight, and the tank was painted with a 60's pastel steel blue with a glossy finish and custom vdmoto aluminum badges were added in place of the original BMW logo.
The rear subframe was entirely replaced with a redesigned shape and topped by a ribbed seat, wile the suspensions were upgraded with progressive springs at the front and adjustable mono at the rear. Powder coated wheels now wear Pirelli MT43 rubbers to retain our vision of bikes with on/off road capabilities.
In the back a steel fender was fitted and left to the weather to create a nice patina of rust, ending with a bullet style taillight and our vdbmoto "pull out plate" holder.
Original BMW fork boots and ears were sourced to restore some of the classic look showcasing an updated 7" headlight, wile the handlebar area was cleaned up now only showing the mini gauges lights mounted directly on the triple tree and the smith speedo located to the right side of the forks. Also, every cable on the bike has been wrapped to give a texturized cleaner look.
The headers were wrapped and a pair of ceramic coated shorty mufflers give the boxer engine a nice throatier sound. With the combination of the 4.00 tires, higher shock and subframe, the bike sits now taller translating in a very comfortable upright position. The oil pan was replaced with a smaller unit after the pictures were taken to give the Beemer more ground clearance and better NYC sidewalk and off-road capability.